My very first roommate aside from family was my roommate in college, Heather. Upon starting college, it was very confusing when I talked about things involving my sister, Heather, or my roommate, Heather. It was hard to distinguish at points...to the point that I still refer to roommate Heather as exactly that..."my roommate Heather". She's married and has a precious daughter Madison, and I'm married...no kids as you know. We are far from roommates. But we are blessed to be neighbors at this point in our lives. In February, Heather informed me that she and her husband would be moving back to the Houston area. They decided to settle in Mirarmar lake, where they bought their first house.
Their sweet little family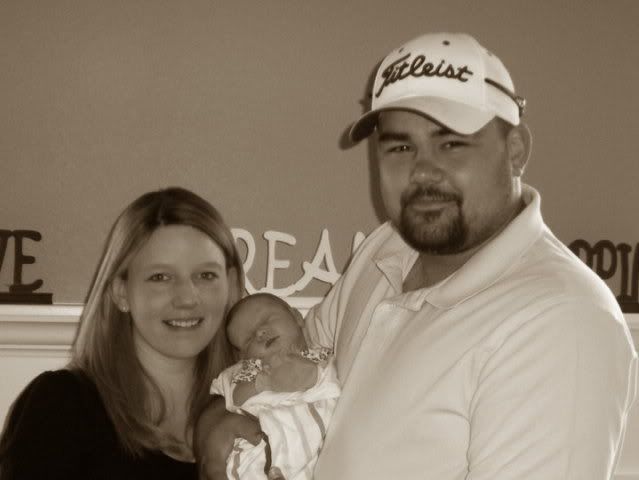 Anyways...Heather and I have continuously lost touch over the years. It's one of the things we do best. Yet, we always manage to find our way back to each other. This time, as I said, it's because we are neighbors. We're lucky...I can't wait until they need an emergency baby sitter!!!
Well, as luck would have it, Heather also wants to walk and eventually start running. We started out on Friday of last week. We walked for at least half an hour, we broke a sweat, and we chatted about all the things from over the past year + that we needed to catch up on. Come Sunday, we were ready to go again and walked for closer to 45 minutes. We made plans to go on Tuesday as well, after David got home to take over with Madison and I returned home from my meeting.
On Monday, there was an unexpected event happening at the lake in the neighborhood. Sadly, a woman, a mother, fell into the lake somehow and did not resurface. Many neighbors came out to talk with each other, console the children and husband of the woman, and to wait and hope and pray for the woman being cared for by EMS. Since Monday, the constables were able to be seen patrolling around the neighborhood.
On Tuesday, we geared up for our walk and headed on our way around the lake. We encountered police officers who were stopped with a man at the lake. We freaked ourselves out, stopped at my house, took Matt's cell phone, headed out again, power-walked, and ultimately cut our walk short.
I feel good when I come home, sweaty, and energized. It takes away some time from being with Matt, but eventually, I have faith, he will be joining us. Hopefully David will join us as well and Madison too once the weather cools off.
Here's to the beginning of #40 walking 3 times a week for 2 months straight. It's started, and I will continue. And hopefully it will continue into the year until the months when it is just too cold to bear.