Liam's first birthday was in July. I cut his hair. It was his fifth "haircut". I did a good job with all of his cuts, if I do say so myself. Although, the longer it got, the more scared I got.
We took our family photos in November and his hair started doing this little flip out thing. It was cute, for sure. I'll just show you, so you have no choice but to believe me.
Agh...bestill my heart. Love him.
Well, around the time that the front started growing past his eyebrows, I decided it really was time for a cut, and it needed to happen before our family photos on the 22nd. We called around and landed with Patrick. He did Uncle John's first hair cut, probably close to 25 years ago. Wow.
Oma and Gomer accompanied us to the salon. We all thought Liam was going to scream his head off, so we were prepared. Oma had my camera and I had two suckers. Gomer, well, he was just along for the ride to say hello to Patrick.
Liam did fabulously. He didn't like the scissors near his ears, but other than that, he only made a peep once or twice. He hugged me and sucked on his sucker. All in all, it was great. And we came out with a big boy, not so much a baby anymore with his cleaned up 'do.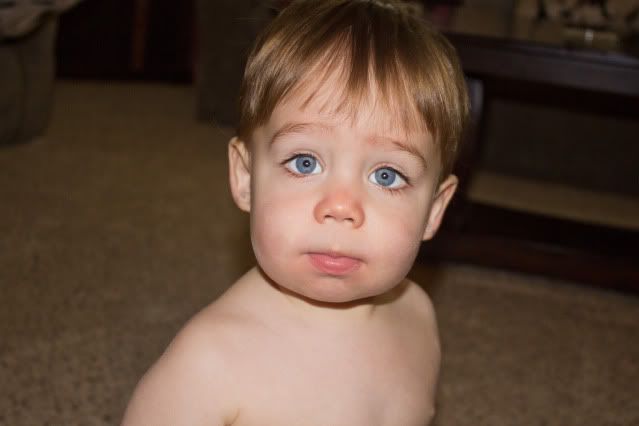 I will never be able to bring myself to cut off this boys hair. No more than a trim in our foreseeable future.